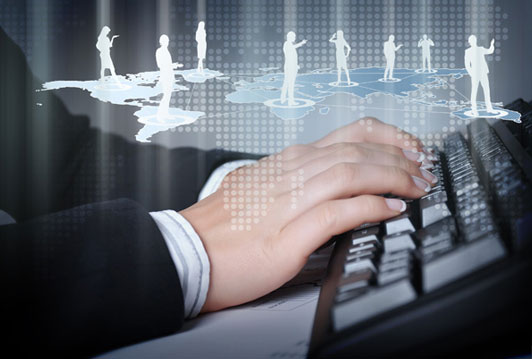 TRIO Corporation iT Services (TCiS) made its inception in 2012 Core team, consisting of people from varied professional backgrounds to their credits, including Doctors, Health and Medical Researchers, with the sole and noble intention of making the Best Electronic Medical Record (An EMR) accessible to the Doctors so as to make their routine smooth sailing and effective. Today it has emerged as a mature and fast growing company aimed whole-heartedly committed to providing reliable, cost-effective and viable I.T. solutions, always upgrading itself to cater to customers' demands and expectations on a global scale. Emphasis on quality, world-class human resources and cutting edge solutions are the hallmarks of its existence and dominance.
With an enviable track record of serving the most demanding customers, we unfold before you the advantages of working with a partner unmatchable and unparalleled software skills, networking expertise, project management experience and domain knowledge in every aspect of Information Technology.
Welcome to our Company!
TCiS owns and employs state-of-the-art software development facility at Pune, Mumbai & Ahmadabad, having distributorship in Maharashtra, Karnataka, & Bihar, and HO in Pune and Branch Offices at Mumbai, Ahmadabad & Delhi. We take the onus of recruiting and nurturing talent through extensive, rigorous training programs via these facilities- always on the go to enhance and enrich our quality standards as par with the best in the world, with our unstoppable mission to reach the pinnacle of success.
The company is helmed by an experienced group of the IT professionals having more than 15 years of relevant work experiences and is an integral part of the Sonic Group of companies established in 2005. It is emerging as one of the fastest growing company with over 1500 customers in various product verticals and comprises of an in-house Development team consisting of 50 developers having well trained Sales Force across Maharashtra & Metros. It encompasses a comprehensive industry-wise client list offering software and technology solutions being implemented successfully in almost all industry verticals, such as telecommunication, healthcare, automobiles, pharmaceuticals, services, government, sales & distribution etc.
TCiS has a clientele of more than 300 large and medium size corporate houses including several leading clients like KEM Hospital , Kalsekar Hospital ,Godrej Hospital, Phoenix Market City, Tata Steel, Atlantic International, Marvel, Adani Medical College, Gujarat, Rhythm Heart Institute, M.M.P.J. Hospital & Research Center, GKN Drive line, KEM Hospital, Mumbai Kothari Eye Care, Jaipur and many more to its credits.
The company, with its aim to feel the pulse of the Indian market, set out to have its firm footing on the business ground, therefore evaluating "Corporate Tie Ups" and "Franchising' coupled with sustainable growth oriented business model and high brand recognition and recall.
"Solution for multi-center operations. Solution for Indoor and Outdoor Management. Customization as per the need of Hospital/Clinics Efficient management of the daily operations"


-Why TCPL?
---
Who we are?
TCiS is specialized in Healthcare Information Technology, Enterprise Resource Planning (ERP) offering various software services and solutions to clinics, medium and large multi-specialty hospitals and enterprises houses.
The professional experience in Various domains has given TCPL's solutions a cutting edge as they are developed from the perspective of the user.
TCPL, has a clientele and successful installation is around 220+ spread across India.

VISION
To get things going for our customer by employing innovative technology.
---

MISSION
To provide efficient and foolproof IT solution to our customers via our innovative, off-the-beaten-track technology paving the way for profitability and incessant growth in the revenues. In a nutshell, to emerge as an IT giant through complete customer satisfaction & employee motivation.
---

OUR SOFTWARE FEATURES
User friendly, Minimizing medical errors, Healthcare data-warehousing and analysis, 3 level security (Super-admin, admin and user), Data base back up.
---
PROMOTERS AND MANAGEMENT
Founder, Director at TCPL
Rahul Wanchoo is Founder, Director at TCPL, the proprietor of Sonic Group. He has added many feathers to his caps being a Graduate in Computer Science, Post Graduate in Marketing from Pune University.
He has an experience spanning over 10 years of work in Logistics (International & Domestic), Power Backup, Security Surveillance, Software & IT products.
Started his impressive journey with a Business Executive, entrusted with the task of handling corporate accounts with Bombino Express & Iqara Telecoms, then set up his own company wielding the baton of an Entrepreneur.
Made a foray in Business Venture in 2006 by providing Logistic support and solutions to corporate biggies like Reliance Communication, Tulip Telecom etc.
In 2008 donned the hat of a Business Partner for global power brands APC & Emerson, provided end to end power management solutions along with Security Surveillance & IT products to Private & Government organizations, having a client base of more than 1000 across Maharashtra.
In Dec 12 did a phenomenal launch of 1st dongle based EMR software for Doctors & Hospitals & within a short span of time, made HIMS solution accessible to more than 180 hospitals across India.